Consumer51 + Xynergy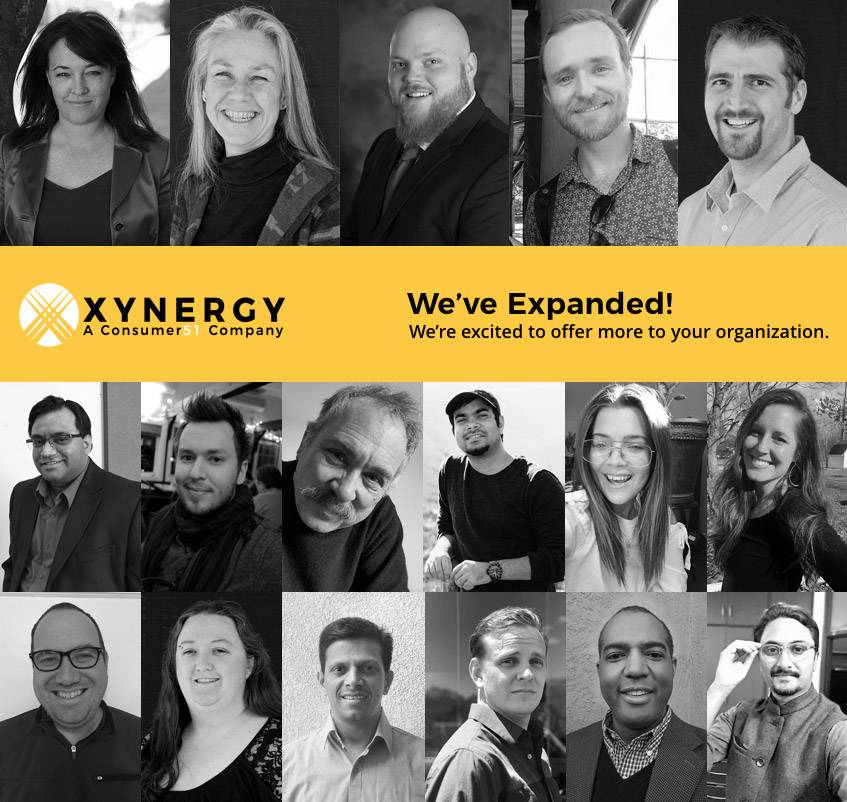 When were you acquired by Consumer51?
Xynergy was acquired March 2018.
Why did you get acquired?
Both our management teams met in the fall of 2017 and spent a lot of time getting to know each other. We quickly recognized that we shared a similar approach to marketing, and each company had a similar culture and values. But like any great marriage, the magic is in the differences — our agencies compliment each other and help Xynergy reach new opportunities. And with Consumer51's global team and award winning designs, we're better able to grow your business!
Do you still offer the same services?
Yes, as well as new services including:
Inbound marketing with HubSpot
Competitively priced hosting packages, domains and email
A wider range of custom software solutions
Expert user experience research
Beautiful contemporary designs from our expanded creative team
Marketing solutions for all sized companies — from startups to Fortune 500
Am I still working with the same team?
If you're working on a project or have a retainer with us, you'll keep working with the same team. Jennifer Martin will continue to lead operations in New Mexico as Chief Operating Officer. The only difference is that you now have access to even more talent, extended business hours with our distributed team, and a wider range of services!
Are you still located in the same offices?
Yes, you can find us growing your business from the same convenient locations in Santa Fe and Albuquerque. Please let us know if you would like to arrange a time to stop by.
Are you still servicing local, New Mexico companies?
Yes! Xynergy is proud of its 24 year history in the Land of Enchantment. With a bigger team and broader reach we can better serve our local clients. In addition, we'll also be bringing more business back to our home state from other parts of the country and world.
Can I arrange a time to speak with the management team of Consumer51?
Absolutely! Our CEO Arijit Banerjee and Creative Director, James Alexander, are eager to meet with you. Please just reach out and let us know a good time to arrange a phone or video call.