Launched Before the Internet Was a Superhighway, Xynergy® Going Strong
by Cindy Bellinger, Santa Fe New Mexican
Santa Fe, NM- Jennifer Martin launched Xynergy®, a Web-site development company, in 1994, before any published Web-design guides were available. At the time, she said, there were only about 1,300 sites on the Internet.
Xynergy® started up before most companies like it were even thought of.
"When I began, there were only 1,300 sites on the Web," said Jennifer Martin, owner of Xynergy®. "Now there are millions."
She got the idea for Web site development in 1994, and back then, there were no books and no information on how to develop a Web site. "It was all really low-tech," said Martin, who says she easily saw the possibilities for the Web. She was 24 years old then and had been programming software since age 10.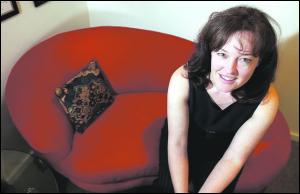 photo by Luis Sanchez Saturno
The New Mexican
Today, Xynergy® incorporates video, audio, animation and virtual tours into its sites. She has six employees and 150 clients. Some of her clients include actress Shirley MacLaine and local businesswoman Lette Birn, who owns Form Plus Function. One of Xynergy's first clients was the New Mexico Economic Development Department.
"They asked us in 1996 to develop a site for them," Martin said. "It was 800 pages and we worked night and day learning how to do it. But we got it done and they've had us do two re-designs with them since."
MacLaine's site has about 1,500 pages, incorporates database functionality, e-commerce and memberships. Brit Elders, CEO and spokeswoman for MacLaine, said she found Xynergy® through the Internet. "They've been so creative and helpful. When we've wanted to set up something a certain way, they've found a way to do it. They are very easy to work with," said Elders, who also says the MacLaine home page will undergo a redesign soon.
In the nine years since Martin has owned her business, it has moved five times to accommodate expansion. Now at the corner of Cerrillos Road and Paseo de Peralta, above Sage Bakehouse, the business occupies 1,500 square feet.
"It's the deck I love," said Martin. "You do need a break from the computer from time to time and this is a great place to take it."
She's also organized her business to the point where she can now take two-week vacations. And she says she doesn't need to check in with the office every day, either. She says she's been lucky to find great people to work for her, but adds that it isn't easy. "It's really difficult to find honest, reliable and creative people," she said.
But the team she has put together now is working well. Client Birn said she needed to meet with Martin's employees only once. "They easily understood what I wanted. They looked at my catalog and immediately knew what I was after," she said. "I'm extremely pleased with the site and what they've done."
Birn said Form Plus Function opened in 1984 and business more than doubled since going live on the Web. "We're getting customers from all over the United States."
Besides developing sites, Martin and her team also provide online marketing which includes key-word research, bidding and purchase tracking. This is in addition to more traditional techniques such as site optimization, general search directory submission and reciprocal linking.
Xynergy® also has a hosting service, and can move in-house client databases and information to Web-based formats.
Martin began her company with zero investment. Most site developments cost between $9,000 and $16,000. But recently she began offering a start-up package for people who wanted to a page or two but were not ready to spend much money. This cost is $1,000 and includes programming and a year of hosting.
Martin also donates her time to develop sites for nonprofit organizations such as the Buckaroo Ball, New Mexico Special Olympics and the Opera Company in Steamboat Springs, Colo.
Martin grew up in Los Alamos and attended The University of New Mexico, majoring in computer engineering and art. She worked for several computer companies in Santa Fe before starting her own, and it began like many small companies: low budget, high vision. She still has the high vision and the budget is moving upward, too.
For more information about Xynergy®, call 820-9357.