New Mexico Tourism Department Unveils New Website with Dynamic Functionality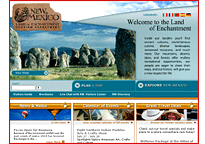 Santa Fe, NM- When users surf to the new Department of Tourism website located at www.NewMexico.org, they're likely to see a lot of changes that may bring them back again and again. For visitors and New Mexico residents alike, the site offers a treasure trove of information about attractions, sights, and events throughout the state, from heavily traveled locations like Santa Fe and Albuquerque, to the off-the-beaten path destinations like Aztec, Cuba, Des Moines, and Questa.
"The emphasis on content was to ensure that the site was promoting ALL of New Mexico and as many events that we could catalogue - even if no one in our office had ever heard of any of them before now," said Jennifer Martin, President and CEO of Xynergy® Web Design & Marketing, who partnered with the Department of Tourism on site development Arriving at the new site, users have the option of viewing current content, brought forth from a comprehensive SQL database that contains thousands of entries of places, events, locations, and associated information, or searching by date, place name, event, or keyword, to find 'things-to-see-and-do' throughout our great state.
In addition, NewMexico.org also offers two distinctive pull-up menus that keep both a visitor - and a resident - in mind. All sections offer a rich amount of information about their subject, along with dynamic search engines that allow users to create custom searches for everything from where to stay to where to eat to what to see.
"We admit it's an exhaustive amount of information," said Martin. "But that's the point, actually. Even prior to the re-design, the New Mexico Department of Tourism site was one of the most visited sites in the state of New Mexico, and we wanted to ensure that our content was both accurate and thorough to ensure that people would regard the site as the most informative for New Mexico-related information."
Xynergy's involvement's in the Department of Tourism's web-presence began in the year 2000, when the Department recognized that their website was becoming a significant force in bringing tourist traffic into the state of New Mexico. The current re-design is the first major significant overhaul in five years for the site, with production costs of approximately $100,000.
"What we hope for is a site that is useful both to visitors and residents alike in planning their vacation or their in-state activities," said Martin. She added that future versions of the site may include the ability for frequent users - like travel planners, concierges, or others in the hospitality industry - to "subscribe" to the site's database to receive e-mail announcements of upcoming events in a particular location, region, or genre of activity.
While the department's mission is to promote visitors to the state, a good bit of what we call tourism is the result of residents visiting other parts of the state as well, said Martin. We hope that the site will help to aid people from within the state to get to know their own state better, and to use the site to discover new possibilities for their activity and travel plans.
NewMexico.org Site Features
The New Mexico Department of Tourism website (NewMexico.org) is divided into two main sections, each of which has its own set of subsections featuring different kinds of information that users can view and search for.
First there's Plan a Trip, which includes sections on:
Travel Planning Ideas, linking people to travel agents and the New Mexico visitor center;
Hot Deals, listing hundreds of discount travel packages in New Mexico;
Places to Stay, featuring a dynamic search engine of hotels, motels, inns, condos, ranches, lodges & camp grounds throughout New Mexico;
Cities & Maps, featuring a dynamic map of the state, broken down by region;
Transportation & Weather with internal links to weather forecasts and arrival information for planes, trains, and automobiles;
Food & Drink featuring a dynamic search engine of restaurants throughout New Mexico by location and food type;
Sightseeing & Tours section listing ten different 'tour genres,' from Art Tours to Historical Tours to Science Tours;
A dynamic Calendar of Events offering current events as well as customizable options for those traveling to the state in the future who want to know what's happening when they're coming;
An Activities & Recreation Center which lists hundreds of different outdoor options for visitors to our state, broken down into fifteen categories that range from hunting and golf to camping and hot air ballooning and everything in between.
There's also Explore New Mexico, whose sections include:
Sights & Attractions, listed by region and available by custom search;
Parks & Monuments, linking to all state and national parks in New Mexico;
Unique Destinations, featuring places that you probably haven't heard of;
Arts & Entertainment, linking to a searchable database of galleries, museums, and performing arts venues throughout the state;
History & Culture with a history of the state and Native American and Hispanic cultures;
Native America focuses exclusively on our many tribes and their traditions;
Photo & Trivia featuring photo tours and interesting facts about the Land of Enchantment.
The Events Editor
NewMexico.org's Events Editor feature allows for user interactivity in ways that few other websites can offer, by allowing users from organizations throughout the state governmental, business, non-profit, schools, etc. to add information about their own upcoming events directly into the database.
Located in the Calendar of Events section, the Add Your Event link takes users directly to a full database template, with fields for Event Name, Organization Name, Description of Event, Cost, URL, phone number, and other pertinent information. While this information will be pre-viewed by human editors before going live (to prevent abuse of the system) for the most part, organizations will be able to make their event-information go live to the rest of the state and the world quickly and easily.
The development of the Events Editor for use by the public came about by the recognition that no matter how many people we had on hand, there would be a lot of events that we'd miss if we didn't allow users to submit this information themselves, said Martin. Now, New Mexico organizations large and small can promote their offerings to everyone.