Association of Firearm and Tool Mark Examiners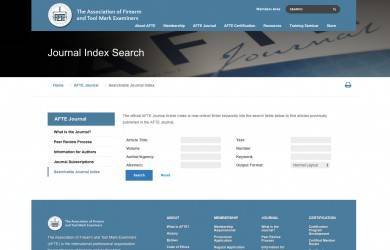 This is the international professional organization for practitioners of Firearm and/or Toolmark Identification. The website and specialized databases were completely redesigned and reprogrammed for AFTE.org. The site consists of hundreds of pages of content as well as very specialized databases including one originally created by the FBI to track firearm markings.
Members of the website have priveleged access to the majority of databases. However, the public can browse, search, view and download any of the many journals AFTE publishes.
Features:
Custom Database Applications - multiple
Expression Engine Base CMS
Custom Design
Mobile Versioning
Membership System and Management
Monthly Maintenance