Local SEO Best Practices
If you are a small business owner, chances are, you have searched for your company online (It's okay to admit, we won't call you narcissistic). After all, it is important to know how your company is being displayed to viewers across the web. In the not so distant past, a search like this would be very discouraging. Search engine results would be littered with national companies and business listing sites that would push smaller companies towards the bottom, or even completely off the first page. This made it very difficult for small local businesses to compete for clicks and impressions. Nowadays, Google and other major search engines have begun to focus on giving their users a convenient, local experience when they browse online. This is giving small local businesses the opportunity to compete at the top of search engine results or even in prime position, with their name, address, phone number and images displayed at times. So if you have performed a search for your businesses, and you're not being displayed in this manner, don't lose hope. There are several steps you can take to improve your chances of being displayed for these local listings.
N.A.P Listings:
N.A.P stands for name, address and phone number. There are several sites across the web that offer free N.A.P listings on their site, such as Yellow Pages, CitySearch, Superpages, and others. Google uses these types of business directory sites to establish what businesses are currently operating in your area. There are some important things to focus on when it comes to getting your N.A.P listing on these sites:
Choose the directories that are the most popular in your area. Recent research shows that Google values different N.A.P listings depending on the geographic area that the business is located in. So some business directory sites will be more important than others.
Fill out the business profile with as much information as possible. Outside of just a name, address and phone number, typical business profiles will allow you to include a business category, map, logo, images of your store, and a brief description of your business. Including this information will give you a better chance of gaining clicks and will also be shared with major search engines as well. Always take the opportunity to include more information wherever possible.
Make sure your information is correct across the web. A majority of these business directories (and there are hundreds) obtain their information from other business directory sites. This makes it very simple for false N.A.P listings to spread across the web very quickly. If your business ever moved locations or changed phone numbers, there is a strong chance that the old information is being presented on some of these business listing sites. Search engines could punish your ranking if they find several N.A.P. discrepancies for your business across the web. While it can be time consuming, there are sites that will provide a scan of the top business directory sites and inform you of the information they are displaying for your business. You can then either pay someone to correct the listings, or contact the incorrect ones individually. Either way, it is important to get them corrected as quickly as possible.
Location Content:
Search engines want to find information about your location when they scan your site, so you need to make sure it is easy for them to find. Consider presenting your name , address, and phone number on the site with structured markup and placing it in the footer of your page as well. Make sure that your N.A.P is shown as text and not simply shown in an image, as search engines are not able to read images the way that actual viewers are.
Consider having a page that talks about your location and the community surrounding it. This is a great way to plant keywords regarding your location on to your site. This is especially important if you have a business with multiple locations. You will want to create a separate page for each location that can be easily found within the site. This can help search engines determine that you have multiple locations, rather than assuming you have different addresses listed for a single location.
Google My Business Optimization:
If you have spent any time online, you have surely begun to notice how Google is making My Business a priority. It is difficult to conduct a search now that does not include a few My business profiles along with a Google Map at the top of the page. This is Googles way of rewarding businesses who have taken the time to get involved on the My Business platform and fill out a profile. Filling out a My business profile is simple and can have major benefits for your business. It will quickly include you in Google Maps, Google +, and could possibly place you into prime search placement. Make sure you fill out the profile with as much information as possible, and it is all correct. Accidentally listing the wrong address or business name could have damaging effects on your SEO.
The Power of Local Reviews:
Competing with other companies on a local level means getting serious about reviews. Primarily, reviews on your Google My Business page can be the most beneficial, but gathering them on other local listing sites such as Yelp is a good practice as well. A solid base of reviews can allow you to stand out among the crowd on a search engines results page, and increases your chances of being placed in prime position on other Google features like the map section on the top of some results pages. Be diligent about asking clients for online reviews and even consider offering a type of reward for leaving one. Once you have gathered several reviews, use a structured markup on your site to display your ranking under your business on a search engine results page. This will allow you to appear like the image below: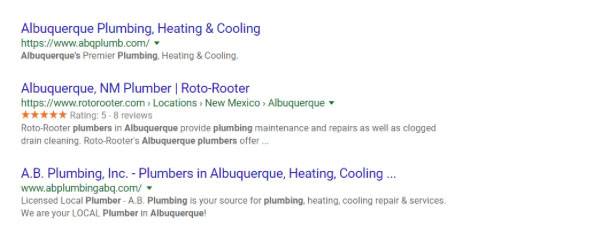 While this type of schema markup has not been proven to improve your SEO ranking, you can see how it helps your site stand out from the competition. It will surely have an effect on your click through rate, increasing the amount of visitors to your site.
While these tasks can be time consuming, they will surely help increase traffic to your site over time. The benefits of your hard work will be seen as you continue to plow your way through this list. As always, the digital marketing team at Xynergy is here to help with any of your questions and concerns regarding these practices.
---
Contact us for help improving your Local Listings.
or Call 505-557-7780