Steps Towards Adwords and Pay-per-Click Success
For a small business with a small marketing budget, Adwords can be a scary task. A few misguided decisions can build up massive fees and not many results. Fortunately, there are simple steps you can follow to ensure that even the most inexperienced marketer can find Adwords success.
Testing Period: Start Small, Research and Build
There are two stages when it comes to researching for a successful campaign. The first stage involves conducting keyword research. Keyword research will allow you to figure out the most frequently searched terms for your industry. There are several online tools that can be used to assist with this research, but we recommend Google Keyword Planner. Google Keyword Planner is a great tool for predicting the cost per click and traffic that each keyword could accumulate. You can either import a set of your own keywords that you would like information on, or request that Keyword Planner provide you with keyword suggestions. Use the information that it offers to move on to the second stage of your research, a test sample.
We recommend running a sample campaign for approximately a month before going live with the full campaign. Get creative with your ads and your ad groups to see if you can gain some insight on the PPC landscape and your competitors. This can be done with a budget as small as $150.00 depending on the industry. Being that you will only run this trial campaign for a limited period of time, try not to make too many changes to the separate keywords, ads, or ad groups. You will not have enough time to gather accurate information on the changes you make. The goal of this trial campaign is to work out any kinks that you may have in your campaign, and to give you added information of the PPC landscape for your industry. Keep an eye out for long-tail keywords that are gathering a lot of impressions and have a low cost per click. These types of keywords are going to give you the best return on investment for your campaign.
Creating Strategic Ad Groups
The best strategy for your campaigns ad groups involves separating your keywords into related categories. If you have keywords that could fit into multiple categories, you can repeat them within each ad group you find necessary. Separating your keywords into categories will allow you to gather information on how that specific subject is searched on the web, and will allow you to develop specific ads that will target those keyword searches.
Specialized Ads
The ad that you create will be the only communication from your campaign that the public actually sees. So, it can be argued that this is the most vital part of PPC. Make sure each of your ads include a call to action, and are easy to read. To make your ads stand out from the rest of the group, ad extensions should be added.
There are several types of extensions that you can use in different ways, including sitelink extensions, callout extensions, call extensions, location extensions and review extensions.
The most important extensions are:
Sitelink extensions - These are additional lines of text that appear below the ad and direct people to different pages of your site other than the final URL. Searchers can use site link extensions to navigate to a page that is the most relevant to their needs.
Callout extensions - These are additional lines of text that appear below an ad and provide additional information about a product or service. They are not clickable and therefore cannot send users to a specific page of the website.
Call extensions - Your ad will display a phone number that people can call to get in touch with your business. Call extensions have a click to call function on mobile devices.
Location extensions - This extension adds the address of your business in an ad. You cannot manually insert the address, but this is automatically picked up from Google MyBusiness.
Review extensions: This extension provides the opportunity to showcase our product or service mentioning reliable third-party websites that are positively talking about it.
As a rule of thumb, extensions should always provide additional information to what you are already writing in the ad. This is going to engage the searcher and increase clicks to the website.
Optimized Landing Pages
The quality of your landing page can have a dramatic impact on you conversion rate and overall campaign success. Internet users who click on paid ads are typically looking for quick answers and solutions to their search queries. While other pages on your site can provide vast amounts of information and cover multiple subjects, your landing page needs to be set up in a simple manner and get to the point quickly. Landing page experience is also considered by Google when they are assigning your campaign a quality score.
Since you want your visitors experience on your landing page to be as simple as possible, ask yourself what the ultimate goal of your campaign is, and build from there. Different goals can lead to different types of landing pages, here are some examples from our clients:
Hunter Kirkland Contemporary had been struggling to rank for keywords regarding Santa Fe art galleries, and the famous art district where they are located, Canyon Road. Our solution was to write some informative blogs regarding the Canyon Road art scene and the art community in Santa Fe. Before these pages began to help their rankings, we had to attract some traffic to them. We set a Google Adwords campaign that was focused on delivering these articles to interested tourists who were visiting the area. The landing page contained the blog we had written and some quick links that would allow the viewer to see nearby restaurants and upcoming art openings.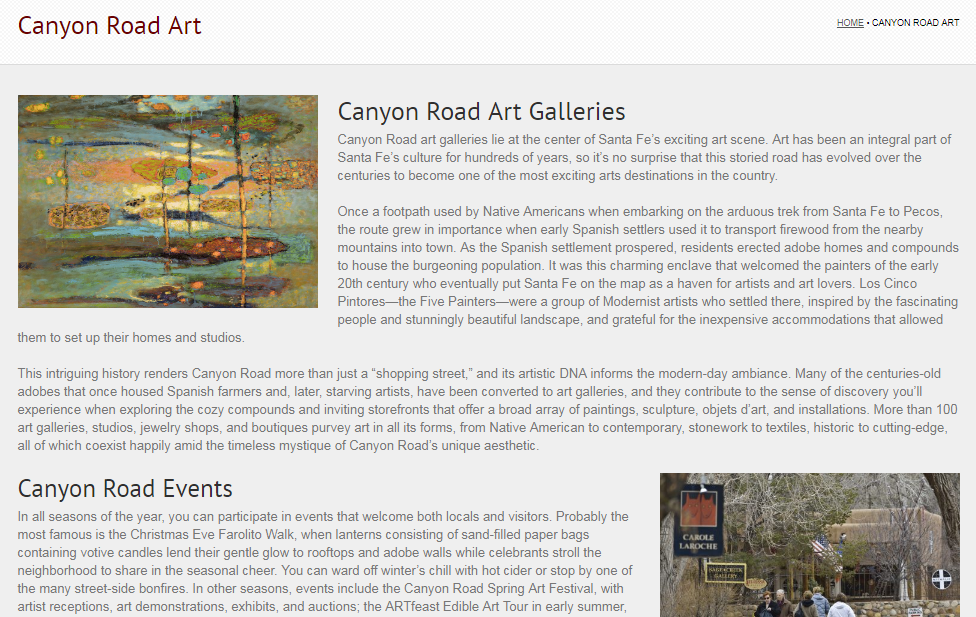 Special Event Page
Once a year, Southwest Care Center would hold their Aid & Comfort Gala. This event was one of their largest fundraising efforts of the year, so it was imperative that they sell as many tickets as possible. With ticket sales in mind, we set off to build the perfect landing page. A simple design, which required no scrolling, was implemented. It featured two pictures of past Gala's , necessary information such as location, dress code, time and bands that would be playing. On the right hand side of the page we placed a form where purchasing tickets was made possible. The only link on the page was to an informational page regarding Southwest Care Center and their mission. This landing page saw conversion rates that were much higher than previous years, and offered visitors the simplicity that they were looking for.
Lead Capture Landing Page
A lead capture page allows you to get information on potential customers that you can then use to contact them by phone or strategic email campaigns. Photon Brothers, a California and Colorado solar company, had asked us to conduct a PPC campaign with this strategy in mind. They needed to gather information on customers who were interested in receiving solar quotes and other information. We created a specific landing page for each territory that they operate, ensuring that it the user would know that they were dealing with a local company. The page featured a simple form on the right hand side, and a short paragraph regarding the benefits of going solar. These pages increased conversion rates, quality score, and even began ranking on results pages for their individual locations.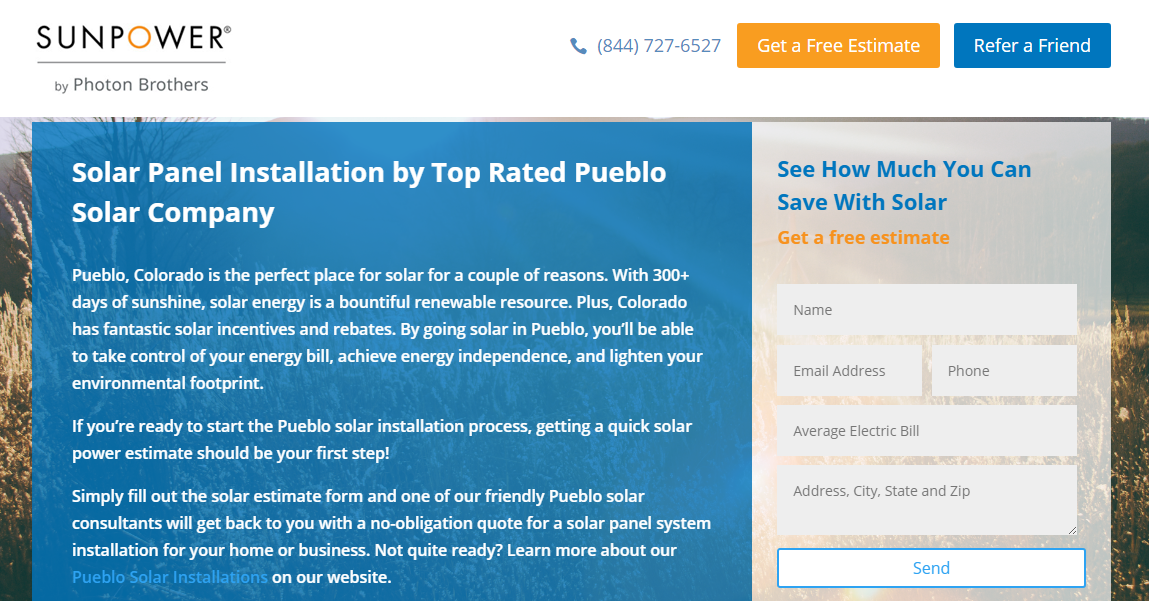 Continued Research and Adjustments
Chances are, you are not going to build a perfect campaign on your first shot. It is important to constantly research and adjust your campaigns based on the analytics that are coming in. Delete ineffective keywords, adjust ads that are not performing well, and add other keywords as you see fit. You can even use the research from your PPC campaign to improve performance on the rest of your site. As you begin to notice highly searched keywords and terms, take time to implement them on the rest of your site. This will improve your overall site ranking over time.
---
We have over a decade of experience running successful campaigns for a variety of different businesses.
If you are interested in receiving help with your Adwords campaign,
Contact us for help with Pay-Per-Click Advertising
or Call 505-557-7780